Cartridge Filter Systems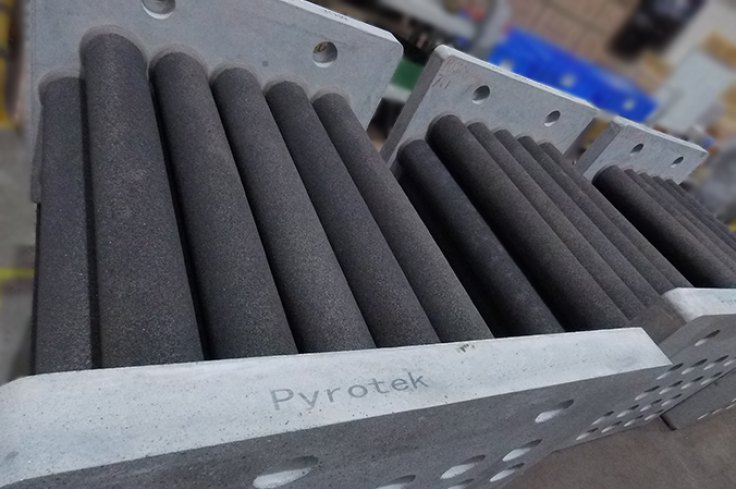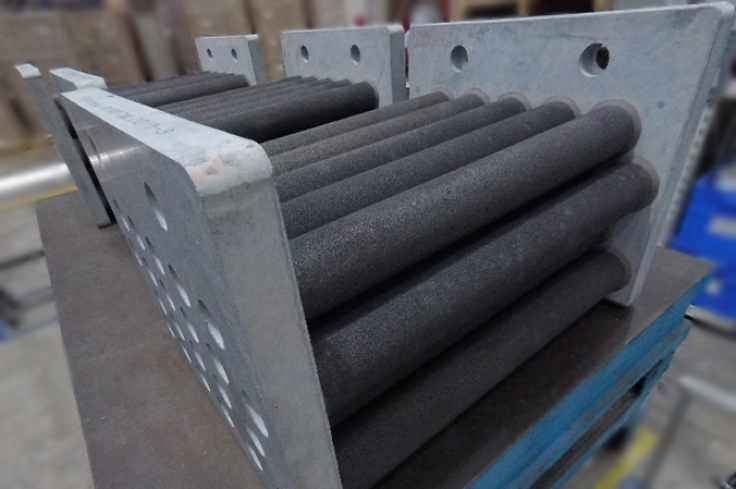 Overview
The Pyrotek Cartridge Filter (PCF) system is recognized as a premium filtration method for high-value added end products such as canstock, fine foil, litographic sheet and electronics. The PCF tube configuration creates a large amount of surface area with a minimal footprint, which allows a finer filter grade to be employed. This results in very high filtration efficiency compared to other filtration devices.
There are several "standard" tube configurations that are used for certain flow rate ranges. The flow rate is largely determined by the number of tubes. Coarse grits permit higher flow rates and high throughput for a given tube bundle assembly. Very fine grit sizes provide the highest filtration efficiency levels. Multiple tube arrays may be employed in a given PCF system in order to accommodate flow rate and filter life requirements. The finest grade filters are fully capable of removing virtually all particulates down to 5 microns.
The PCF uses a Pyrotek bonded particle filter (BPF®) media with alumina granules as its aggregate. Filter life will depend on many factors including incoming metal cleanliness, flow rate, alloy, number of tubes, filter grade and metal volume of each cast.
Pyrotek Offerings
Typical features of a PCF system include:
Outer steel shell
Heated lid
Customized placement of inlet/outlet and drain location based on customer requirements
Precast refractory lining
Backup insulation package
Cartridge filter tube assemblies
Standard power supply
Heating elements
Preheating system
Pyrotek Cartridge Filters are available in standard tube bundle assemblies of PCF-5, 7, 14, 22, and 28. Pyrotek offers other various design options and configurations engineered to meet customer-specific operational requirements.
Maximize filtration surface area with minimal footprint
World-class accepted technology for high quality casting
Startup instantly with no conditioning or loss of production
Multiple design configurations to meet customer process requirements
Competes favorably with deep bed filtration systems
MCF-5
MCF-7
MCF-14
MCF-22
MCF-28