Fabricator
Employment Type: Full-time
Location: Cortland, New York
This position is within the Mining And Metals Industry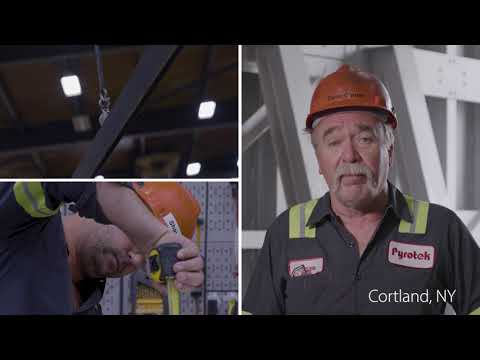 Play video
Job Summary
Who is Pyrotek? Pyrotek is the most successful global industrial company you've never heard of (until now). Pyrotek is a global leader in high temperature materials and our products impact virtually everyone in the developed world. Our global team has worked for decades to deliver new technologies, advanced engineered systems and innovative materials to customers in industries all over the world. Join our team and create, improve and innovate the everyday!
Essential Duties and Responsibilities
The Fabricator facilitates the safe and efficient project builds and sub-assemblies for the purpose of meeting fabrication demands and completion of work orders to build products of optimal quality with on-time delivery.
Shift:  Monday - Friday, 6:30 am - 3:00 pm
** Starting wage $22.91 with the potential to earn more based on performance and experience. **
Essential Functions/Responsibilities
Perform quality fabrication, including, setup, layout, and fit up based upon accurate interpretation of engineering drawings, work orders, bills of material, standard operating practices, inspection documents and process control plans.
Determine appropriate fabrication equipment or method based on requirements from blueprints and sketches.
Fit up and tack welding of cut materials according to standard shop practices in order to meet specified tolerances of finished weldment.
Consistently review completed welds and projects to ensure all completed work falls within the tolerances on the blueprints. Cut, burn, drill & tap, grind, etc. as necessary to meet final specifications for part tolerance, aesthetics and general quality expectations.
Final GMAW Welding in accordance with engineering drawings, tolerances and specifications, and welding procedures resulting in weldments that meet specifications for squareness, dimensional tolerance, warpage, etc.
Safely rig and move materials and equipment using fork trucks and overhead crane in accordance with company procedures.
Why work for Pyrotek Cortland? Check out our You Tube video!
Click the I'm Interested button so our hiring team can review your application and schedule time to speak with you soon! 
What happens next? Once you submit your application / resume, a member of the recruiting team will send you an email with a self-schedule link to speak with one of our Recruiters. Watch your email for that link! 
Qualifications
Education/Experience  High School Diploma or General Education Development (GED) / Test Assessing Secondary Completion (TASC), plus  one (1) year experience as a fabricator or completion of qualifying training program Certified Welder AWS; or equivalent combination of education and experiences.
Advanced knowledge of SMAW (stick), GMAW (mig), GTAW (tig) welding processes preferred.
Ability to obtain fork lift certification.
Knowledge/Skills/Abilities
Mechanical Aptitude.  Advanced understanding of spatial reasoning orientation in two-dimensional and three-dimensional spaces, cause and effect, heat conduction, velocity, gravity and force.  Ability to qualify in industrial vehicle use and demonstrate safe operation at all times.  Knowledge of machines and tools, including their uses, repair, and maintenance.             
Welding Skills.  Ability to perform MIG, TIG, arc and acetylene welding.  Ability to setup, and layout work related to welding assignments.  Ability to weld various metals.                           
Core People Skills. Ability to positively interact and work collaboratively with a diverse group of people at all levels of the organization.  Genuine with high ethical standards and values and personal integrity and honesty.  Ability to apply a large measure of common sense to a variety of situations.
Communication Skills. Ability to speak clearly and persuasively in positive or negative situations, listen and obtain clarification, and respond well to questions.  Ability to read a limited number of words and recognize similarities and differences between words and between series of numbers.  Ability to read and understand documents such as policy manuals, safety rules, operating and maintenance instructions, and procedure manuals. 
Computer/Applications Skills. Ability to clock into and out of jobs via computer terminals.
Core Business Skills. Advanced Blueprint/Part Drawing reading comprehension skills: Ability to extract and comprehend information from complex drawings and use the data to construct fabrications. Apply accurate mathematical and arithmetic calculations of whole numbers, decimals and fractions including conversions, addition, subtraction, multiplying, dividing and an understanding of geometric shapes and angles. Ability to exercise sound judgement and discretion in handling of proprietary and confidential information.  Ability to work independently, without significant direction and to use resources effectively to "figure it out".  Strong critical thinking skills, judgment and keen attention to detail and accuracy.  Exceptional prioritization, time management and organizational skills.  
Professional Investment.  Demonstrated commitment to own personal professional development and learning.
Physical/Sensory Requirements
The following physical activities described here are representative of those required by a team member to perform the essential functions of this position. Reasonable accommodation, if feasible, will be made to enable individuals with disabilities to perform the functions of position.
Must be able to stand for long periods of time. Stand and walk on concrete floors, use hands, reach, talk, hear bend, kneel, stoop, crouch, crawl, and climb.  Specific vision abilities required by this job include close vision, distance vision, color vision, peripheral vision, depth perception and ability to adjust focus. The team member must occasionally lift and/or move items up to 100 pounds, and frequently lift and/or move 50 pounds. Team members performing this job must be able to wear protective or safety equipment such as safety shoes, glasses, gloves, hearing protection, and a respirator as needed. 
Working Environment
While performing the duties of this job, the team member is frequently exposed to fumes or airborne particles, moving mechanical parts such as overhead cranes, vibration and moving vehicles. The noise level in the work environment and job sites can be loud. Hard working surfaces for standing and walking.
#PyrotekHiringNow  #cortlandjobs #fabricationjobs #manufacturing 
The minimum and maximum hourly range for this full-time position is $22.91 - $30.89 + benefits.   
 Our salary ranges are determined by role, level and location.  Within the range, individual pay is determined by work location and additional factors, including but not limited to job-related skills, experience, and relevant education and/or training.  Please note that the compensation details listed in this posted role reflect the base salary only and do not include bonus or benefits. 
Pyrotek benefits include:
Medical, Dental, Vision after 31 days
Paid Vacation & Sick Leave
401(k) with generous match
Profit Sharing
 Supplemental Benefits
For a full summary of Pyrotek's benefit offerings, please click HERE.
For a full job description, click HERE. 
Pyrotek is an Equal Employment Opportunity Employer and does not discriminate on the basis of race, religion, color, sex (including pregnancy, gender identity, and sexual orientation), parental status, national origin, age, disability, family medical history or genetic information, political affiliation, military service, or other non-merit based factors.
California residents please take a moment to review our California Resident Applicant Data Collection Notice