Sales Engineer Intern
Employment Type: Intern
Location: Columbia City, Indiana
This position is within the Mining And Metals Industry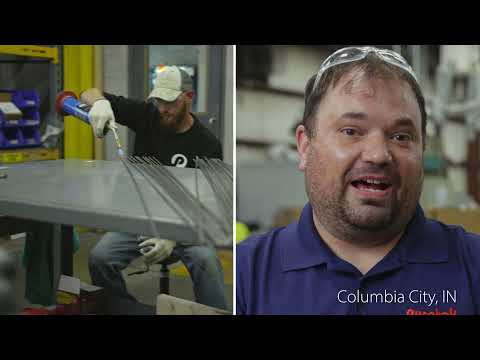 Play video
Job Summary
We are a diverse, global team of highly trained engineers and technical manufacturing experts serving in the best interests of our many industry partners. Our mission has always been to do the right thing every time for our customers and remain their long-term trusted partner.
Pyrotek helps its customers and partners around the world win against their strongest competitors with Efficiency of Technology. That means you are more competitive and productive long term with the best solutions for every problem. And it means you get the latest engineered technology from a company that has always been at the forefront of innovation.
Today, we're more than 3,000 people strong, with more than 80 locations in more than 35 countries. Manufacturing plants, research & development centers, local service and engineering teams.
We've grown a lot over the years, but our mission of always doing the right thing is the same one we started with in 1956. Our work has always been inspired by the customers we know well. Honest and genuine in our relationships. Curious, innovative and sound in our approach.
Essential Duties and Responsibilities
The Pyrotek Sales Internship Program is a robust twelve-week program that provides an inside look into the full-time role of a Sales Engineer. Interns work side by side with Pyrotek Sales Engineers and Operations professionals to experience our "learn by doing culture" through:
Job Shadowing
Prospect Meetings & Client Visits
Sales Challenge & Mock Proposal Meetings
Prospecting & Communication Training
Basic understanding of Manufacturing Processes
One-on-one Coaching & Mentoring Program
Meet & network with Pyrotek leaders
Your Summer at Pyrotek:
We are looking for internally driven individuals excited to explore a career in sales and client relations that is rewarding personally, professionally, and financially.  Your internship at Pyrotek could be the first step on a career path that offers tremendous growth potential. 
Essential Functions/Responsibilities
Work closely with the Manager and Sales Engineer Team Members completing some or all of the following:

Trip/Expense reports
Market/Customer research via web, CRM, business publications
Reviewing sales performance against sales targets
Prospecting

Job shadowing.
Learning the manufacturing process.
Create/attend mock proposal meetings.
Schedule: Monday - Friday, 8am-5pm
Qualifications
Education/Experience:  Sophomores and Juniors studying business, engineering, or manufacturing operations.  A high desire of customer-focused intelligence. Rising sophomores and juniors with an expected graduation date between December 2024 and June 2026.
Knowledge/Skills/Abilities
Core People Skills.  Ability to positively interact and work collaboratively with a diverse group of people at all levels of the organization.  Genuine with high ethical standards and values, and personal integrity and honesty. Progressive, flexible and team oriented.
Communication Skills.  Ability to speak clearly and persuasively in positive or negative situations, listen and obtain clarification, and respond well to questions.  Maintain a persuasive and credible presentation style.
Computer/Applications Skills. Proficient computer skills using a variety of software applications systems. Strong Working knowledge of Microsoft Office Products such as Word, Excel, Project, etc.  Experience with Customer Relationship Management software a plus.
Core Business Skills. Ability to exercise sound judgement and discretion in handling of proprietary and confidential information. Strong critical thinking skills, judgment and keen attention to detail and accuracy.
Travel.  Ability to participate in sales calls with Sales Engineer or Management personnel. 
Professional Investment.  Demonstrated commitment to own personal professional development and learning. Ability to learn about and apply technical products to various industrial manufacturing processes.
Pyrotek is an Equal Employment Opportunity Employer and does not discriminate on the basis of race, religion, color, sex (including pregnancy, gender identity, and sexual orientation), parental status, national origin, age, disability, family medical history or genetic information, political affiliation, military service, or other non-merit based factors.
California residents please take a moment to review our California Resident Applicant Data Collection Notice