Production Manager
Employment Type: Full-time
Location: Cortland, New York
This position is within the Mining And Metals Industry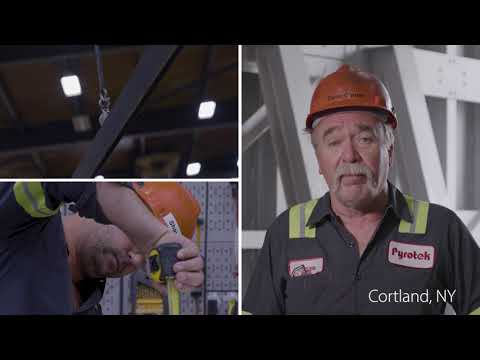 Play video
Job Summary
Who is Pyrotek? Pyrotek is the most successful global industrial company you've never heard of (until now). Pyrotek is a global leader in high temperature materials and our products impact virtually everyone in the developed world. Our global team has worked for decades to deliver new technologies, advanced engineered systems and innovative materials to customers in industries all over the world. The last car, train and plane you rode in were all safer and more energy efficient because of Pyrotek. The beverage cans in your refrigerator are lighter, stronger and infinitely recyclable because of Pyrotek. Join our team and create, improve and innovate the everyday!
Essential Duties and Responsibilities
Pyrotek's Production Manager, under the direction of the Operations Manager is responsible for managing all production activities in the plant to ensure that production, safety, environmental, and quality goals are met.
Essential Functions and Responsibilities
** This is only a partial listing of functions & responsibilities.  For a full list, please review job description attached to this posting. **
Plan, direct and control daily manufacturing activities to ensure on-time delivery of error-free products. 
Drive continuous improvement of safety, quality, delivery, and cost in area of responsibility.  Motivate team to develop ideas, then manage and lead improvement implementations.
Work with Planning to evaluate customer orders and available labor and materials to develop a production plan to meet on-time delivery objectives. Manufacture to that plan and communicate the plant's progress toward that plan several times per week. Incorporate overtime and/or temporary job assignments to meet delivery objectives.
Supervise, coach support, train and develop personnel in assigned area; resolve personnel issues, redirecting complex issues to management and HR in a timely manner; directly manage team members, including assigning and reviewing work, evaluating performance/compensation, resolving grievances, administering disciplinary action, interviewing employment candidates, and effectively recommending hires and terminations in a timely manner.
Determine the effectiveness of policies, procedures, and projects/plans. Take appropriate corrective measures when necessary. Identify new applications, innovations, quality and/or safety improvements and report findings/results to management. Ensure all activities and operations are performed in compliance with federal/national, state/regional and local regulations.   
Submit requested reports/data to federal/national, state/regional and local agencies.
Travel to meet customers, equipment manufacturers, product related conferences and other Pyrotek locations.
Cortland Pyrotek is a great place to work!
Excellent Safety Record and Team
Regular performance and salary reviews
Great team oriented and collaborative team members 
What happens next?  
Click the I'm Interested button so our hiring team can review your application and schedule time to speak with you soon! 
Once you submit your application / resume, a member of the recruiting team will send you an email with a self-schedule link to speak with one of our Recruiters.  Watch your email for that link!  
Qualifications
Education/Experience:  Bachelor's degree, preferably in engineering or related technical field, plus a minimum of five years operations and business management in a manufacturing facility; or equivalent combination of education and experience.  
Knowledge/Skills/Abilities:
Administration/Management. Knowledge of business and management principles involved in strategic planning, resource allocation, human resources modeling, leadership technique, production methods, and coordination of people and resources.
Budget Development. Ability to develop a manufacturing and capital expenditure budget, execute and manage the budget as planned.
Leadership Skills.  Build a culture of tolerance, acceptance and civility by setting an example to team members.  Ability to coach and motivate team members in planning, strategic product management, decision-making, teamwork, and process improvement.  Ability to effectively manage team projects to completion according to schedule.  Ability to provide regular performance feedback and to write annual performance reviews. Ability to foster attitudes, conditions and environments that guide teams toward excellence and a respectful, positive, transparent, and collaborative environment. Ability to develop team member skills and encourage growth, and to foster quality focus including improving product development processes and procedures.
Communication Skills. Effective communicator with skills that demonstrate collaboration and cooperation. 
Strategic Change Agent.  Courage to make and encourage others to make difficult decisions.  
Computer/Applications Skills. Proficient MS Office computer skills, including Word, Excel, PowerPoint, and SharePoint. Knowledge of enterprise resource planning for manufacturing software, preferably Infor VISUAL.
Analytical Skills.  Ability to use information/data and various metrics to develop an informed and factual business case.  Strong financial analytical capabilities for developing profitable product strategies. 
Travel.  Valid US Passport or ability to obtain.  Ability to travel both domestically and globally approximately 10%.
Physical/Sensory Requirements
The following physical activities described here are representative of those required by a team member to perform the essential functions of this position. Reasonable accommodation, if feasible, will be made to enable individuals with disabilities to perform the functions of position.
Must be able to sit for long periods-of-time, bend and reach, use stairs, lift up to 25 pounds occasionally and communicate effectively in English by telephone, in person and in writing. Effectively use a personal computer, office equipment and telephone.  Valid US Passport or ability to obtain.  Ability to travel both domestically and globally approximately 10%.
Working Environment
While performing the essential responsibilities of this position, team member works within an office and the manufacturing environment. Personal Protective Equipment (PPE) is required within the manufacturing environment. Employee while in the manufacturing environment is regularly exposed to noise, heat and cold environmental conditions.
The minimum and maximum salary range for this full-time position is $82k - $115k + benefits. Relocation benefits may be available, if deemed applicable based on candidate location.  
Our salary ranges are determined by role, level and location.  Within the range, individual pay is determined by work location and additional factors, including but not limited to job-related skills, experience, and relevant education and/or training.  Please note that the compensation details listed in this posted role reflect the base salary only and do not include bonus or benefits. 
Pyrotek benefits include:
Medical, Dental, Vision after 31 days
Paid Vacation & Sick Leave
401(k) with generous match
Profit Sharing
 Supplemental Benefits
For a full summary of Pyrotek's benefit offerings, please click HERE.
For a full job description, click HERE. 
$82,000 - $115,000 
Pyrotek is an Equal Employment Opportunity Employer and does not discriminate on the basis of race, religion, color, sex (including pregnancy, gender identity, and sexual orientation), parental status, national origin, age, disability, family medical history or genetic information, political affiliation, military service, or other non-merit based factors.
California residents please take a moment to review our California Resident Applicant Data Collection Notice