Production Supervisor
Employment Type: Full-time
Location: Cortland, New York
This position is within the Mining And Metals Industry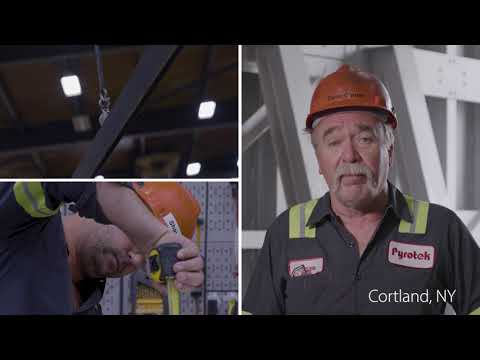 Play video
Job Summary
Who is Pyrotek? Pyrotek is the most successful global industrial company you've never heard of (until now). Pyrotek is a global leader in high temperature materials and our products impact virtually everyone in the developed world. Our global team has worked for decades to deliver new technologies, advanced engineered systems and innovative materials to customers in industries all over the world. The last car, train and plane you rode in were all safer and more energy efficient because of Pyrotek. The beverage cans in your refrigerator are lighter, stronger and infinitely recyclable because of Pyrotek. Join our team and create, improve and innovate the everyday!
Essential Duties and Responsibilities
The Production Supervisor manages, directs and coordinates day-to-day operations on the production floor to ensure projects are on target to meet customer's expectations of quality and delivery. 
Essential Functions/Responsibilities
This is only a partial listing of job functions.  Please see attached job description for a full range of functions & responsibilities.
Direct and coordinate execution of daily activities of work teams. Responsible for efficient flow of error-free products throughout manufacturing operations.  
Accurately manage the material request and manufacturing issuing processes to ensure the required raw materials and pass-through finished goods are available and issued to all in-process projects. Determine causes for material variances and implement corrections to improve.
Actively and effectively manage the manufacturing tool program to ensure team members have the correct tooling and lifting devices for the application, available when needed, and in working order. 
Drive continuous improvement of safety, quality, delivery, and cost in area of responsibility. Motivate team to develop ideas, then manage and lead improvement implementations.
Effectively oversee, provide leadership, direction, motivation, and hands-on management for assigned manufacturing staff. Responsible for team member performance as related to given directives and ongoing team member development activities.
Promote a culture of accountability through effective people management. Manage and evaluate team members' performance and development plans. Make recommendations on promotions, hiring, and terminations.
Work with Planning department to evaluate customer orders and available labor and materials to develop a production plan to meet on-time delivery objectives utilizing available planning tools and lean principles.  Make decisions regarding temporary job assignments and overtime requirements.
Click the I'm Interested button so our hiring team can review your application and schedule time to speak with you soon! 
What happens next? Once you submit your application / resume, a member of the recruiting team will send you an email with a self-schedule link to speak with one of our Recruiters. Watch your email for that link! 
Qualifications
Education/Experience  High School Diploma or General Education Development (GED) / Test Assessing Secondary Completion (TASC) plus minimum three (3) year experience in manufacturing and one (1) year experience in a leadership/lead experience; or equivalent combination of education and life experiences.
College course work, or advanced education is a plus.
Knowledge/Skills/Abilities
Core People Skills. Ability to positively interact and work collaboratively with a diverse group of people at all levels of the organization.  
Communication Skills.  Effective communicator with skills that demonstrate collaboration and cooperation. Ability to speak persuasively in positive or negative situations, listen and obtain clarification, and respond well to questions and challenging comments.  Ability to influence and negotiate for mutual benefit.
Strategic Change Agent.  Courage to make and encourage others to make difficult decisions.  Ability to foster commitment to the shared mission and vision of Pyrotek and actively lead in development/execution of strategic goals and objectives related to assigned responsibility. 
Leadership Skills. Build a culture of tolerance, acceptance and civility by setting an example to team members. Ability to coach and motivate team members in planning, strategic product management, decision-making, teamwork, and process improvement. Ability to provide regular performance feedback and to write annual performance reviews. 
Computer/Applications Skills. Working knowledge of Microsoft Office Suite, including Word & Excel.  Aptitude to learn and understand Visual Manufacturing (ERP system) software, Synchrono software, and other programs utilized on the job.
Core Business Skills. Ability to exercise sound judgement and discretion in handling of proprietary and confidential information. Ability to identify and solve practical problems while dealing with complexity and ambiguity. Gathers and analyzes information carefully and develops alternative solutions. Understands business implications of decisions and actions. Is cost consciousness and conserves organizational resources. Able to set short-term and long-term goals even when conflicting priorities exist. Demonstrates accuracy and thoroughness with a strong attention to detail. Proactive to find and implement ways to improve processes.
Analytical Skills.  Ability to use information/data and various metrics to develop an informed and factual business case.  Strong financial analytical capabilities for developing profitable strategies. 
Physical/Sensory Requirements
The following physical activities described here are representative of those required by a team member to perform the essential functions of this position. Reasonable accommodation, if feasible, will be made to enable individuals with disabilities to perform the functions of position.
While performing the duties of this job, the team member is regularly required to talk, hear, and see.  This position is moderately active and requires standing, walking, and bending.  team members performing this job must be able to wear protective or safety equipment such as safety shoes, hard hat, glasses, and hearing protection.
Working Environment
While performing the duties of this job, the team member is frequently exposed to fumes or airborne particles, moving mechanical parts such as overhead cranes, vibration and moving vehicles. The noise level in the work environment and job sites can be loud.
The minimum and maximum salary range for this full-time position is $60k - $85k + benefits.  
Our salary ranges are determined by role, level and location.  Within the range, individual pay is determined by work location and additional factors, including but not limited to job-related skills, experience, and relevant education and/or training.  Please note that the compensation details listed in this posted role reflect the base salary only and do not include bonus or benefits. 
For a full summary of Pyrotek's benefit offerings, please click HERE.
For a full job description, click HERE.
$60,000 - $85,000 
Pyrotek is an Equal Employment Opportunity Employer and does not discriminate on the basis of race, religion, color, sex (including pregnancy, gender identity, and sexual orientation), parental status, national origin, age, disability, family medical history or genetic information, political affiliation, military service, or other non-merit based factors.
California residents please take a moment to review our California Resident Applicant Data Collection Notice