Engineering Intern
Employment Type: Intern
Location: Cortland, New York
This position is within the Mining And Metals Industry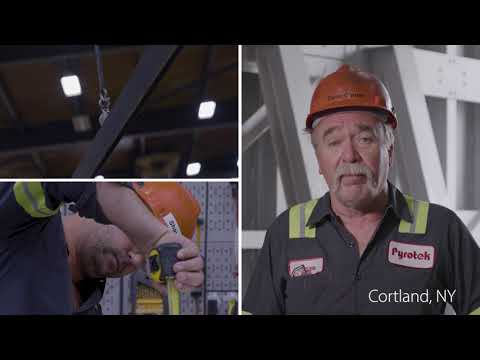 Play video
Job Summary
Who is Pyrotek? Pyrotek is the most successful global industrial company you've never heard of (until now). Pyrotek is a global leader in high temperature materials and our products impact virtually everyone in the developed world. Our global team has worked for decades to deliver new technologies, advanced engineered systems and innovative materials to customers in industries all over the world. Join our team and create, improve and innovate the everyday!
Essential Duties and Responsibilities
We are a diverse, global team of highly trained engineers and technical manufacturing experts serving in the best interests of our many industry partners. Our mission has always been to do the right thing every time for our customers and remain their long-term trusted partner.
This is a non-benefited, 12-week summer program for the summer of 2024.
Schedule: Monday - Friday 8:00am - 4:00pm
The Engineering Internship will support multiple CAD drawings & 3D modeling projects. Additionally support any engineering administration work that may be required such as equipment manual creation or printing work packages for the manufacturing floor.  
Essential Functions/Responsibilities:
The ability to search in a controlled PDM vault and open the latest version of a SolidWorks or AutoCAD drawing.
The ability to model in CAD and SolidWorks.
The ability to read and comprehend manufacturing drawings and the tolerances associated.
Create and produce organized complete manufacturing instructions.
Write clear, concise, grammatically correct material for inclusion in product manuals.
Why choose Pyrotek Cortland for your summer internship? Watch our video!
Click the I'm Interested button so our hiring team can review your application and schedule time to speak with you soon! 
What happens next? Once you submit your application / resume, a member of the recruiting team will send you an email with a self-schedule link to speak with one of our Recruiters. Watch your email for that link! 
Qualifications
Education/Experience  High School Diploma and currently pursuing a degree in Mechanical Engineering, or a related field.
Knowledge/Skills/Abilities:
Core People Skills.  Ability to positively interact and work collaboratively with a diverse group of people at all levels of the organization.  
Communication Skills. Ability to speak clearly and persuasively in positive or negative situations, listen and obtain clarification, and respond well to questions.  Proficiency in writing clearly and concisely and editing work for spelling and grammar.  
Computer/Applications Skills. Data entry skills having a working knowledge of Microsoft products, especially proficient in Excel. The ability to read and comprehend dimensional callouts and tolerances on manufacturing drawings. Excellent computer skills are a must to perform the required duties. The ability to use SolidWorks and AutoCAD is critical.  
Core Business Skills. Read drawings in order to understand tolerancing, geometric tolerancing. Ability to exercise sound judgement and discretion in handling of proprietary and confidential information.  Ability to work independently, without significant direction and to use resources effectively to "figure it out".  Strong critical thinking skills, judgment and keen attention to detail and accuracy.  Exceptional prioritization, time management and organizational skills.  
Physical/Sensory Requirements
The following physical activities described here are representative of those required by a team member to perform the essential functions of this position. Reasonable accommodation, if feasible, will be made to enable individuals with disabilities to perform the functions of position.
Must be able to sit for long periods-of-time, bend, and reach, use stairs, lift up to 25 pounds occasionally and communicate effectively in English by telephone, in person and in writing. Effectively use a personal computer, office equipment and telephone.
Working Environment
While performing the essential responsibilities of this position, team member generally will work in an office environment.
#Cortlandmanufacturing #engineeringinternships #summerinternships 
Pyrotek is an Equal Employment Opportunity Employer and does not discriminate on the basis of race, religion, color, sex (including pregnancy, gender identity, and sexual orientation), parental status, national origin, age, disability, family medical history or genetic information, political affiliation, military service, or other non-merit based factors.
California residents please take a moment to review our California Resident Applicant Data Collection Notice