Rigid Machine Operator- 1st Shift
Employment Type: Full-time
Location: Columbia City, Indiana
This position is within the Mining And Metals Industry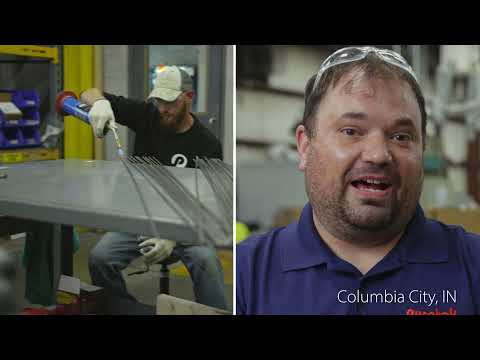 Play video
Job Summary
Who is Pyrotek? Pyrotek is the most successful global industrial company you've never heard of (until now). Pyrotek is a global leader in high temperature materials and our products impact virtually everyone in the developed world. Our global team has worked for decades to deliver new technologies, advanced engineered systems and innovative materials to customers in industries all over the world. Join our team and create, improve and innovate the everyday!
Essential Duties and Responsibilities
Responsible for the operation of the Rigid Glasweve filter line, processing of raw material into Rigid Glasweve semi-finished and finished product via various mixing, cutting and packaging techniques.
Shift:  Monday - Thursday 6:00 am - 4:00 pm
Starting Wage:  $17.75
Essential Functions/Responsibilities
COATING – Proficiently process raw material into coated material via mixing and coating techniques, to include:

Following priorities and sequences in producing product to meet customer requirements.
Accurately read work order instructions and carryout operations as required.
Proficiently preparing measure granular and liquids in mixing of coating solution.
Accurately completing all quality checks.
Proficiently processing coated rolls into Rigid Glasweve.
Accurately recording traceability information for each roll produced.
Storing processed Rigid Glasweve that is not sequencing to the next step in material holding room.
Immediately notifying supervision of any out of tolerance readings and/or barrier(s) in meeting production requirements.
Continuously keeping work area clean at all times, including machine and floor.

LASER CUTTING – Proficiently process coated material into semi-finished product (coupons), to include:

Following priorities and sequences in producing product to meet customer requirements.
Accurately reading work order instructions and carryout operations as required.
Safely loading coated rolls into laser cutting material feed bin.
Accurately selecting laser cutting program per semi-finished (coupon) Part Number.

FORM & FIRE - Process coated material/semi-finished product (coupons) into finished goods, to include:

Following priorities and sequences in producing product to meet customer requirements.
Accurately reading work order instructions and carryout operations as required.
Accurately selecting Form & Fire program per finished goods Part Number.
Safely collecting filters from bin.
Accurately packaging finished goods per instructions.

Continuously multitask between Coating, Laser Cutting and Form & Fire processes to ensure continuous manufacturing flow.
Perform basic Preventative Maintenance (PM) tasks as assigned.
Columbia City Pyrotek is a great place to work!  Watch our video!
Innovative and collaborative manufacturing plant
4 day work-weeks! 
Safety PPE provided (can include prescription safety glasses)
Generous benefits and compensation (some benefits start day 1)
Team Member of the Month (up to 5 hours of paid time off & $$)
Birthdays and special occasions recognized
Regular performance and salary reviews
Click the I'm Interested button so our hiring team can review your application and schedule time to speak with you soon! 
What happens next?  Once you submit your application / resume, a member of the recruiting team will send you an email with a self-schedule link to speak with one of our Recruiters.  Watch your email for that link!  
Qualifications
Education/Experience  A minimum of one (1) year of manufacturing or machine operation experience; or equivalent combination of education and experience.   
Knowledge/Skills/Abilities:
Core People Skills. Ability to positively interact and work collaboratively with a diverse group of people at all levels of the organization. 
Communication Skills. Ability to speak clearly and persuasively in positive or negative situations, listen and obtain clarification and respond well to questions.
Computer/Applications Skills. Capable computer skills using a variety of software applications systems to access material, record labor hours and access ADP Employee Self Service. General entry level working knowledge of Microsoft Office Products.
Core Business Skills. Ability to exercise sound judgement and discretion in handling of proprietary and confidential information. Ability to work independently, without significant direction and to use resources effectively. Strong critical thinking skills, judgment and keen attention to detail and accuracy. 
Performance Management. Ability to define problems, collect objective data, establish facts and draw valid conclusion. Ability to develop functional and technical skills which guarantee a high level of accomplishment. Competent ability to achieve hourly production requirements.
Manufacturing Skills. Ability to read and understand basic drawings. Ability to perform basic mathematical skills, including forms of measurement and other work material calculations, utilizing a calculator.
Physical/Sensory Requirements
While performing the functions of this position, the team member is continuously required to talk or hear; regularly required to stand, walk, use stairs, bend and reach, use hands and fingers and handle or feel. Frequently lift material weighing up to 30 pounds. Occasionally team lift, maneuver/handle material weighing up to 75 pounds. Communicate effectively in English by telephone, in person and in writing. Effectively use a personal computer, basic calculator and telephone. Specific vision abilities require both up close and distant sight abilities.
Working Environment
While performing the essential responsibilities of this position, team member generally will work solely within a manufacturing environment where Personal Protective Equipment (PPE) is required. Team member is regularly exposed to noise (hearing protection is required), heat and cold environmental conditions.
#pyrotekhiring
Pyrotek benefits include:
Medical, Dental, Vision after 31 days
Paid Vacation & Sick Leave
401(k) with generous match
Profit Sharing
Many Supplemental Benefits
#manufacturing #columbiacityjobs
Pyrotek is an Equal Employment Opportunity Employer and does not discriminate on the basis of race, religion, color, sex (including pregnancy, gender identity, and sexual orientation), parental status, national origin, age, disability, family medical history or genetic information, political affiliation, military service, or other non-merit based factors.
California residents please take a moment to review our California Resident Applicant Data Collection Notice