Utility Worker/ Maintenance
Employment Type: Full-time
Location: Cortland, New York
This position is within the Mining And Metals Industry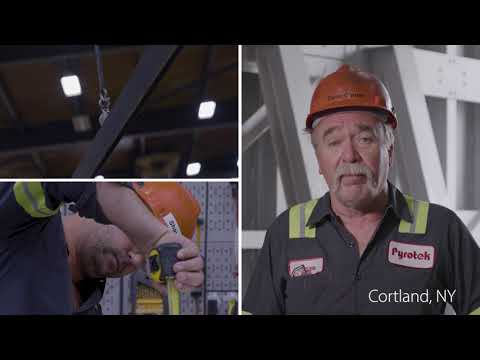 Play video
Job Summary
Who is Pyrotek? Pyrotek is the most successful global industrial company you've never heard of (until now). Pyrotek is a global leader in high temperature materials and our products impact virtually everyone in the developed world. Our global team has worked for decades to deliver new technologies, advanced engineered systems and innovative materials to customers in industries all over the world. Join our team and create, improve and innovate the everyday!
Essential Duties and Responsibilities
Shift:  6:30am - 3:00pm Monday - Friday 
** Starting wage $18/hourly with the potential to earn more based on performance and experience. **
Utility workers function as a resource for both Maintenance and Productions operations as necessary.  
Maintenance Utility:  Perform light and heavy cleaning duties, such as cleaning floors, shampooing rugs, washing walls and glass, and removing rubbish. Duties may include tending furnace and boiler, performing routine maintenance activities, notifying management of need for repairs, and cleaning snow or debris from sidewalk.
Knowledge/Skills/Abilities
Mechanical Aptitude. Understanding of spatial reasoning, cause and effect, heat conduction, velocity, gravity and force.  Ability to qualify in industrial vehicle use and demonstrate continued safe operation at all times.
Core People Skills. Ability to positively interact and work collaboratively with a diverse group of people at all levels of the organization. 
Communication Skills. Ability to read and understand documents such as policy manuals, safety rules, operating and maintenance instructions, and procedure manuals.
Computer/Application Skills. Ability to clock into and out of jobs via computer terminals.
Core Business Skills. Ability to understand and use basic mechanical skills. Ability to define problems, collect objective data, establish facts and draw valid conclusion. Ability to read and understand basic drawings and work instructions. Ability to add, subtract, multiply and divide numbers. Ability to perform mathematical skills in the form of measurement and other work material calculations utilizing a calculator.
Why work for Pyrotek Cortland?  Check out our video!
Innovative and collaborative manufacturing plant
Safety PPE provided (can include prescription safety glasses)
Generous employee referral and recognition programs (includes $$ and paid days off)
Regular performance and salary reviews
Click the I'm Interested button so our hiring team can review your application and schedule time to speak with you soon! 
What happens next?  Once you submit your application / resume, a member of the recruiting team will send you an email with a self-schedule link to speak with one of our Recruiters.  Watch your email for that link!  
Qualifications
Must Haves:  High School Diploma or General Education Development (GED) / Test Assessing Secondary Completion (TASC), or equivalent combination of education and life experiences. Minimum one (1) year related experience.
Essential Functions/Responsibilities:
Complete various physical tasks assigned by the department supervisor.
Use various tools and equipment such as a forklift, personal man lift, scissor lift, overhead crane, and electric pallet jack in a proper and safe manner.
Use correct lifting techniques to avoid back injuries.
Provide suggestions on next steps if supervise is absent to keep work moving forward.
Promote positive employee and customer relations by supporting Pyrotek's commitment to a working environment of tolerance, acceptance and civility.  Respond appropriately to inquiries, concerns and complaints by being professional, courteous and respectful at all times. Work well with other skilled and unskilled laborers.
Physical/Sensory Requirements:
While performing the duties of this job, the employee is regularly required to stand, walk, use hands, reach, talk, hear, and see.  The employee must occasionally lift and/or move items over 50 pounds, and frequently lift and/or move 25 pounds.  Employees performing this job must be able to wear protective or safety equipment such as safety shoes, glasses, gloves, hearing protection, and a respirator as needed. 
While performing the functions of this job, the employee is regularly exposed to outdoor weather conditions; frequently exposed to work near moving mechanical parts such as overhead cranes, vibration, and moving vehicles, fumes or airborne particles; and occasionally exposed to toxic or caustic chemicals. The noise level in the work environment and job sites can be loud.
Pyrotek benefits include:
Medical, Dental, Vision after 31 days
Paid Vacation & Sick Leave
401(k) with generous match
Profit Sharing
 Supplemental Benefits
Pyrotek is an Equal Employment Opportunity Employer and does not discriminate on the basis of race, religion, color, sex (including pregnancy, gender identity, and sexual orientation), parental status, national origin, age, disability, family medical history or genetic information, political affiliation, military service, or other non-merit based factors.
California residents please take a moment to review our California Resident Applicant Data Collection Notice