Drafter- Internship
Employment Type: Intern
Location: Carlisle, Pennsylvania
This position is within the Mining And Metals Industry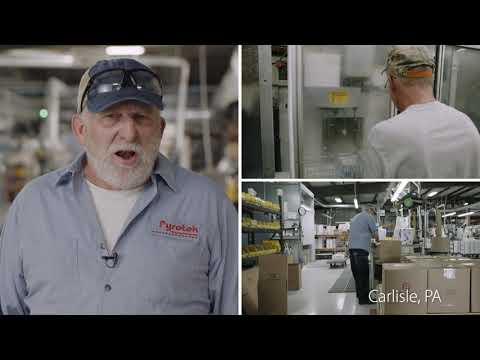 Play video
Job Summary
Who is Pyrotek? Pyrotek is the most successful global industrial company you've never heard of (until now). Pyrotek is a global leader in high temperature materials and our products impact virtually everyone in the developed world. Our global team has worked for decades to deliver new technologies, advanced engineered systems and innovative materials to customers in industries all over the world. The last car, train and plane you rode in were all safer and more energy efficient because of Pyrotek. The beverage cans in your refrigerator are lighter, stronger and infinitely recyclable because of Pyrotek. Join our team and create, improve and innovate the everyday!
Essential Duties and Responsibilities
Hours: Tuesday-Thursday 1pm-5pm *hours are flexible*
**This is part-time non-benefited, internship
**Desired time frame of internship- January 2023- March 2023
**hourly rate of pay $18-$20 depending on experience
Internship will entail learning to operate computer assisted drafting (CAD) equipment and software to prepare clear, complete, and accurate working plans and detail drawings from rough or detailed sketches or notes.
Must be currently enrolled/pursuing  technical degree or related field.
Essential Functions/Responsibilities
Performing final sketch of proposed drawing, checking dimension of parts, materials to be used, relation of one part to another, and relation of various parts to whole structure or project.
Learning various machines, engineering practices, mathematics, building materials, and other physical sciences to complete drawings and makes any adjustments or changes necessary or desired.
Drawing charts for representation of statistical data and presentation.
Drawing finished designs from sketches and present. 
This position would be creating models from the daily priority list and creating fixture models and drawings as required. They may also be assisting in the creation of packaging models of boxes and partitions for the Process Engineer. Any drawings and models that are created would be checked into an EPDM environment.
Why Work for Pyrotek? Watch our You Tube Video!
Click the I'm Interested button so our hiring team can review your application and schedule time to speak with you soon! 
What happens next? Once you submit your application / resume, a member of the recruiting team will send you an email with a self-schedule link to speak with one of our Recruiters. Watch your email for that link! 
Qualifications
Education/Experience
High School Diploma and currently pursuing a technical degree in Drafting, or a related field.
Knowledge/Skills/Abilities
Core People Skills.  Ability to positively interact and work collaboratively with a diverse group of people at all levels of the organization.  Genuine with high ethical standards and values and personal integrity and honesty. 
Communication Skills. Ability to speak clearly and persuasively in positive or negative situations, listen and obtain clarification, and respond well to questions.  Proficiency in writing clearly and concisely and editing work for spelling and grammar.  Ability to vary writing style to meet business needs.
Computer/Applications Skills. Data entry skills having a working knowledge of Microsoft products, especially proficient in Excel. The ability to read and comprehend dimensional callouts and tolerances on manufacturing drawings. Excellent computer skills are a must to perform the required duties. The ability to use SolidWorks and AutoCAD knowledge are critical.  
Core Business Skills. Read drawings in order to understand tolerancing, geometric tolerancing. Ability to exercise sound judgement and discretion in handling of proprietary and confidential information.  Ability to work independently, without significant direction and to use resources effectively to "figure it out". Ability to write routine reports and correspondence.
Physical/Sensory Requirements
Must be able to sit for long periods-of-time, bend, and reach, use stairs, lift to 25 pounds occasionally and communicate effectively in English by telephone, in person and in writing. Effectively use a personal computer, office equipment and telephone.
#PyrotekCareers #internship #carlisle #manufacturing #drafter
Pyrotek is an Equal Employment Opportunity Employer and does not discriminate on the basis of race, religion, color, sex (including pregnancy, gender identity, and sexual orientation), parental status, national origin, age, disability, family medical history or genetic information, political affiliation, military service, or other non-merit based factors.
California residents please take a moment to review our California Resident Applicant Data Collection Notice