Mechanical Design Engineer
Employment Type: Full-time
Location: Cortland, New York
This position is within the Mining And Metals Industry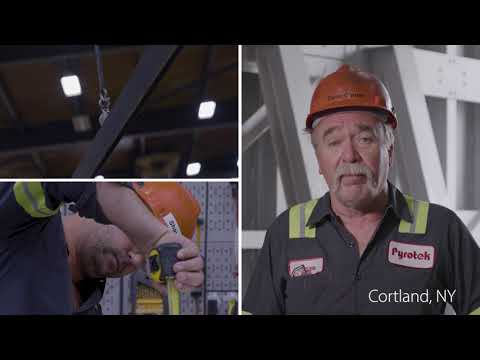 Play video
Job Summary
Who is Pyrotek? Pyrotek is the most successful global industrial company you've never heard of (until now). Pyrotek is a global leader in high temperature materials and our products impact virtually everyone in the developed world. Our global team has worked for decades to deliver new technologies, advanced engineered systems and innovative materials to customers in industries all over the world. The last car, train and plane you rode in were all safer and more energy efficient because of Pyrotek. Join our team and create, improve and innovate the everyday!
Essential Duties and Responsibilities
In house hiring alert!!  Join the Cortland Team for an on-site hiring event.
Tours, interviews and offers at event.   Event is Thursday, February 9 from 9:00 am – 5:00 pm.  No RSVP needed! 
The Fabricator facilitates the safe and efficient project builds and sub-assemblies for the purpose of meeting fabrication demands and completion of work orders to build products of optimal quality with on-time delivery.
Perform the engineering & design of integrated thermal systems for customer applications involving molten metal processing, heating designs and transferring metal in various metal treatment industries.
Oversee and participate in projects from initiation through assembly in the customer plant.
Essential Functions/Responsibilities
Accurately interpret client's technical specifications and produce a compliant technical proposal, offering more suitable alternatives where appropriate.
Coordinate activities with Sales Engineers to ensure proposal process meets customer expectations and are aligned with the Company's product portfolio, development, and sales goals.
Arrange and take a lead role in proposal review, proposal clarification, and project kick-off meetings.
Serve in a technical sales role with presentations to key customers and in business development opportunities.
Provide after sale support for any drawings, solid models and installations required.  
Develop Standard Operating Procedures (SOPs) and work instructions as needed.
Perform project management when needed and appropriate.
Develop quality & EHS documentation/ensure compliance as necessary.
Provide technical expertise or support related to manufacturing.
Why work for Pyrotek Cortland? Check out our You Tube Videos!
Click the I'm Interested button so our hiring team can review your application and schedule time to speak with you soon! 
What happens next? Once you submit your application / resume, a member of the recruiting team will send you an email with a self-schedule link to speak with one of our Recruiters. Watch your email for that link! 
Qualifications
Education/Experience
BSME from an ABET accredited university with a minimum of 3 years engineering experience as a project engineer leading projects developing solutions to furnace control and hot metal industry or mechanical equipment industries preferred or equivalent combination of education and experience.
Knowledge/Skills/Abilities
Core People Skills. Ability to positively interact and work collaboratively with a diverse group of people at all levels of the organization. Progressive, flexible and team oriented.
Communications Skills. Ability to develop and lead effective formal presentations to both internal and external customers.  Proficiency in writing clearly and concisely, editing work for spelling and grammar.  Ability to vary writing style to meet business needs.
Computer/Application Skills.  Proficient computer skills using a variety of software application systems, including; Microsoft Office products, Visio, and 3-D CAD system. Ability to learn Autodesk Inventor.
Core Business Skills. Ability to exercise sound judgment and discretion in the handling of proprietary and confidential information.  Use of resources, analytical skills and process focus to effectively "figure it out." Must be hands-on and maintain high energy to drive continuous improvement.
Mechanical Engineering.  Knowledge and hands on application of engineering science and technology including applying principles, techniques, procedures, and equipment to the design and production of various goods and services. Knowledge of raw materials, production processes, quality control, costs, and other techniques for maximizing the effective manufacture and distribution of goods. Knowledge of design techniques, tools, and principals involved in production of precision technical plans, blueprints, drawings, and models.
Physical/Sensory Requirements
The following physical activities described here are representative of those required by an Team Member to perform the essential functions of this position. Reasonable accommodation, if feasible, will be made to enable individuals with disabilities to perform the functions of position.
Must be able to sit for long periods-of-time, bend and reach, use stairs, lift up to 25 pounds occasionally and communicate effectively in English by telephone, in person and in writing. Effectively use a personal computer, office equipment and telephone. 
Working Environment
Generally work in an office environment.  Will be required to go onto plant floor occasionally as needs/issues arise where Personal Protective Equipment (PPE) may be required.   Travel may be required both domestic and international.
#PyrotekHiring #cortlandjobs #engineers #mechanicaldesign 
Pyrotek benefits include:
Medical, Dental, Vision after 31 days
Paid Vacation & Sick Leave
401(k) with generous match
Profit Sharing
Supplemental Benefits
flexible work schedule
Pyrotek is an Equal Employment Opportunity Employer and does not discriminate on the basis of race, religion, color, sex (including pregnancy, gender identity, and sexual orientation), parental status, national origin, age, disability, family medical history or genetic information, political affiliation, military service, or other non-merit based factors.
California residents please take a moment to review our California Resident Applicant Data Collection Notice