CNC Machinist
Employment Type: Full-time
Location: Aurora, Ohio
This position is within the Mining And Metals Industry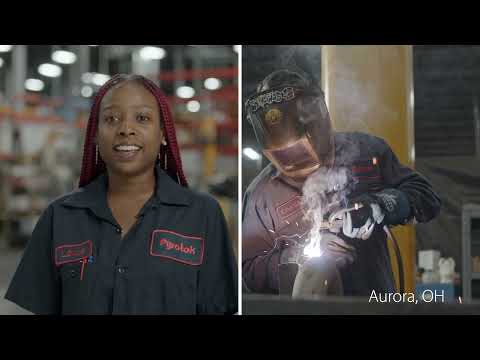 Play video
Job Summary
Who is Pyrotek? Pyrotek is the most successful global industrial company you've never heard of (until now). Pyrotek is a global leader in high temperature materials and our products impact virtually everyone in the developed world. Our global team has worked for decades to deliver new technologies, advanced engineered systems and innovative materials to customers in industries all over the world. The last car, train and plane you rode in were all safer and more energy efficient because of Pyrotek. The beverage cans in your refrigerator are lighter, stronger and infinitely recyclable because of Pyrotek. Join our team and create, improve and innovate the everyday!
Essential Duties and Responsibilities
Shift:  Monday - Friday  6:00 am - 2:30 pm
Responsible for producing machined parts by editing, setting up, and operating a computer numerical control (CNC) machine, maintaining quality and safety standards, keeping records, and maintaining equipment and supplies.
Essential Functions/Responsibilities
Work effectively within team environments both within your department and across the organization.
Follow production schedule by studying work orders, blueprints, engineering plans, materials, specifications, locations and machining parameters.  Interpret geometric dimensions and tolerances (GD&T).
Operate CNC machines by entering instructions, including zero and reference points, setting tool registers, offsets, compensation and conditional switches.  Determination of calculating requirements to include: basic math, geometry, trigonometry, and proving parts.  G-code and/or conversational programming required.
Set-up CNC machines by performing simple edits, installing and adjusting tools, attachments, collets, bushings, stops, and indicating parts with minimal to no assistance.
Load raw material by lifting stock into position.  Verify setting by measuring positions, first-run part and sample work pieces, and adhering to international standards.
Maintain specification by observing drilling, grooving and cutting, including turning, and facing. Taking measurements, detecting malfunctions, troubleshooting processes, adjusting and editing existing programs; and replacing worn tools.  Adhere to quality assurance procedures and processes.
Maintain equipment by completing preventive maintenance requirements, following manufacturer's instructions, troubleshooting malfunctions, and reporting issues for repairs.
Maintain continuity among work shifts by documenting and communicating actions, irregularities and continuing needs.  Document actions by completing production and quality logs.
Why work for Pyrotek?  Check out our Video!!
Competitive compensation and benefit plans
Collaborative, innovative, and team environment
Popcorn Thursday's!
Low turnover and high retention!  A lot of our employees have been here for over 20 years!
And bottom line, just darn nice people!
Click the I'm Interested button so our hiring team can review your application and schedule time to speak with you soon! 
What happens next?  Once you submit your application / resume, a member of the recruiting team will send you an email with a self-schedule link to speak with one of our Recruiters.  Watch your email for that link!  
Qualifications
Education/Experience:  High School Diploma or General Education Development (GED)/Test Assessing Secondary Completion (TASC), or equivalent combination of education and life experiences.
Minimum three years of work experience as a CNC Machinist or successful completion of a certificated machining program.
Knowledge/Skills/Abilities
Core People Skills:  Ability to positively interact and work collaboratively with a diverse group of people at all levels of the organization.  
Communications Skills:  Ability to speak clearly and persuasively in positive or negative situations, listen, obtain clarification, and respond well to questions. 
Computer/Application Skills:  Proficient CNC machining skills (editing programming, tooling knowledge, and ability to read blueprints.)   Ability to use and interpret dimensional measuring tools or equipment.  Strong mechanical aptitude.  Proficient with math skills, especially geometric calculations. Ability to identify and implement improvements.  Ability to choose the correct tooling and sharpen based on the application.  Use of hoists hand tools and other instruments.
Core Business Skills:  Ability to exercise sound judgement and discretion in the handling of proprietary and confidential information.  Ability to work independently, without significant direction, and to use resources effectively to "figure it out."  Strong critical thinking skills, judgement and keen attention to detail and accuracy.  Exceptional prioritization, time management, and organization skills.  Ability to work under pressure and excel in a fast-paced, self-directed entrepreneurial environment.
Physical/Sensory Requirements
Must be able to stand for long periods of time, bend, reach, walk, and use hands and fingers to handle or feel. Ability to lift up to 75 pounds occasionally and up to 25 pounds frequently.  Must be able to communicate effectively in English by telephone, in person and in writing.  Effectively use a personal computer.  Specific vision abilities required by this job include close vision, color vision, peripheral vision, depth perception, and ability to adjust focus.
Working Environment
Works in a manufacturing environment where employee is frequently exposed to loud noise, moving mechanical parts, and fumes or airborne particles.
#PyrotekHiringNow
Pyrotek benefits include:
Medical, Dental, Vision after 31 days
Paid Vacation & Sick Leave
401(k) with generous match
Profit Sharing
Supplemental Benefits
Pyrotek is an Equal Employment Opportunity Employer and does not discriminate on the basis of race, religion, color, sex (including pregnancy, gender identity, and sexual orientation), parental status, national origin, age, disability, family medical history or genetic information, political affiliation, military service, or other non-merit based factors.
California residents please take a moment to review our California Resident Applicant Data Collection Notice