Customer Service Representative
Employment Type: Full-time
Location: Columbia City, Indiana
This position is within the Mining And Metals Industry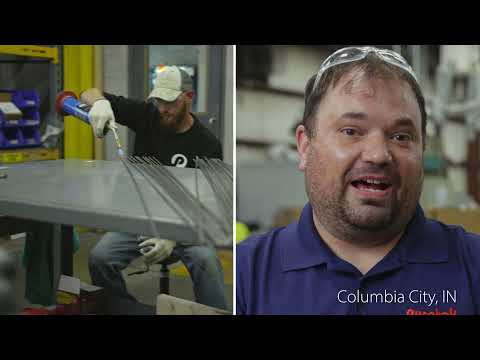 Play video
Job Summary
Who is Pyrotek? Pyrotek is the most successful global industrial company you've never heard of (until now). Pyrotek is a global leader in high temperature materials and our products impact virtually everyone in the developed world. Our global team has worked for decades to deliver new technologies, advanced engineered systems and innovative materials to customers in industries all over the world. The last car, train and plane you rode in were all safer and more energy efficient because of Pyrotek. The beverage cans in your refrigerator are lighter, stronger and infinitely recyclable because of Pyrotek. Join our team and create, improve and innovate the everyday!
Essential Duties and Responsibilities
Monday - Friday, 8:00 am - 5:00 pm
Responsible for interacting with customers and assisting sales team to provide and process information in response to inquiries, concerns and requests about products and services.
Essential Functions/Responsibilities
Provide effective internal and external customer and sales team support, to include:

Maintaining a positive, empathetic, and professional attitude toward customers.
Responding promptly to customer inquiries answering and/or fielding incoming customer calls, emails and faxes regarding quote requests, purchase orders, billing issues, and general customer concerns.  
Accurately entering sales orders into the ERP system and keep records of customer interactions, transactions, comments, and complaints.
Sending established pricing quotes to customers within expected 24 to 48-hour turnaround.
Working with cross functional teams to ensure on time delivery to our customers. 
Ensuring timely processing of RMA, complaints, and new orders.
Supporting Outside Sales team with data entry, CRM updates, RFQ entry, and reporting, as needed.   
Providing feedback to outside sales team as needed for complaints/customer issues/pricing concerns or communicated demand changes. 
Assisting other CSR team members as needed.  

Process all customer orders utilizing standard operating procedures in the ERP system, to include:

Evaluating available on hand inventory while taking into consideration safety stock agreements.
Maintaining accurate want and promise dates within the system and communicating initial and revised dates to the customer.
Utilizing lead times to establish initial promise date to the customer.
Reviewing pricing for accuracy.
Working cross-functionally on customer expedites.
Proactively following up with customer orders appearing on late order report, quotes provided to customers, etc.
Communicating order status updates as appropriate to the customers or outside sales team. 
Providing feedback to outside sales team as needed for complaints and customer issues.
Click the I'm Interested button so our hiring team can review your application and schedule time to speak with you soon! 
What happens next? Once you submit your application / resume, a member of the recruiting team will send you an email with a self-schedule link to speak with one of our Recruiters. Watch your email for that link!
Qualifications
Education/Experience: High School Diploma or General Education Development (GED), plus two (2) years of related customer service experience, or an equivalent combination of education and experience.
Knowledge/Skills/Abilities:
Core People Skills. Ability to positively and professionally interact and work collaboratively with internal and external customers. This person should have high ethical standards and values and personal integrity and honesty. 
Communication Skills. Ability to speak clearly and persuasively in positive or negative situations, listen and obtain clarification, and respond well to questions.  Proficiency in writing clearly and concisely and editing work for spelling and grammar. Ability to vary writing style to meet business needs. Ability to communicate via email and phone with customers. Ability to communicate in English globally.
Computer/Application Skills. Proficient computer skills using a variety of software applications systems. Working knowledge of Microsoft Office Products, particularly Outlook, Teams, Excel, and PowerPoint. Hands on working knowledge of Enterprise Resources Planning (ERP) and Customer Relationship Management (CRM) software systems.
Customer Service.  Proven ability to manage difficult or emotional customer situations, respond promptly to customer needs, solicit customer feedback to improve service, and respond to requests for service and assistance.  Consistently meet commitments.
Core Business Skills. Ability to exercise sound judgement and discretion in handling of proprietary and confidential information. Ability to work independently, without significant direction and to use time and resources effectively to "figure it out". Ability to calculate basic mathematical formulas.
Physical/Sensory Requirements
The following physical activities described here are representative of those required by a team member to perform the essential functions of this position. Reasonable accommodation, if feasible, will be made to enable individuals with disabilities to perform the functions of position.
Must be able to sit for long periods-of-time, bend, and reach, use stairs, lift up to 25 pounds occasionally and communicate effectively in English by telephone, in person and in writing. Effectively use a personal computer, office equipment and telephone.  Must be comfortable going to the plant floor to gather information from plant supervisor and communicate with shipping.
Working Environment
Generally, work in an office environment.
#PyrotekHiringNow #customerservice #sales #columbiacityjobs
Pyrotek is an Equal Employment Opportunity Employer and does not discriminate on the basis of race, religion, color, sex (including pregnancy, gender identity, and sexual orientation), parental status, national origin, age, disability, family medical history or genetic information, political affiliation, military service, or other non-merit based factors.
California residents please take a moment to review our California Resident Applicant Data Collection Notice