CNC Programmer/Machinist
Employment Type: Full-time
Location: Tulsa, Oklahoma
This position is within the Mining And Metals Industry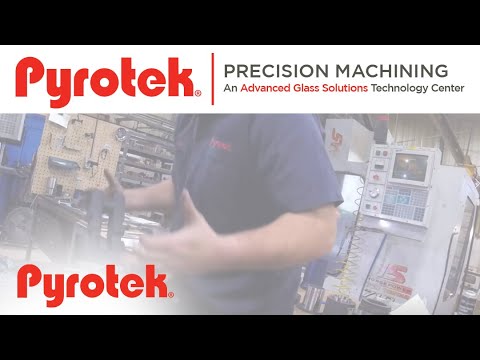 Play video
Job Summary
Who is Pyrotek? Pyrotek is the most successful global industrial company you've never heard of (until now). Pyrotek is a global leader in high temperature materials and our products impact virtually everyone in the developed world. Our global team has worked for decades to deliver new technologies, advanced engineered systems and innovative materials to customers in industries all over the world. The last car, train and plane you rode in were all safer and more energy efficient because of Pyrotek. The beverage cans in your refrigerator are lighter, stronger and infinitely recyclable because of Pyrotek. Join our team and create, improve and innovate the everyday!
Essential Duties and Responsibilities
Write and develop program instructions necessary for CNC machines and tooling to cut and finish raw material with great precision on various mills and lathes into a finished product.
This position will be programming approximately 20% and machining 80%.  This is an active, hands on position.
Essential Functions/Responsibilities
Accurately read and interpret drawings to set up CNC machines in accordance with the blueprints in order to:

Create instructions for CNC Machinists based upon blueprints
Translate instructions into computer automate manufacturing program (CAM)
Prepare geometric layout of designs using proper software
Determine sequence of operations in a program
Choose cutting tools needed for each part
Create and modify programs at the machine as needed
Analyze job orders and perform necessary calculations
Write program and modify existing programs for increased efficiency.

Work with vendors and engineers regularly to identify new technology and tooling for continuous improvement, improved cycle times and greater efficiency to assist machinists.
Based upon blueprints use computer software to model cutting paths and program machines accordingly.
Upon inception of new products perform accurate quality assurance tests to ensure products meet design specifications.
Increase efficiency and support continuous improvement by regularly assessing and appropriately adjusting machine cutting paths or settings to optimize production while maintaining the highest levels of quality.
Effectively train new team members on how to properly operate CNC Machines and programs.
Collaborate effectively with engineers, quality department and other CNC Machinists to ensure programs are accurate.
What happens next?  Once you submit your application / resume, a member of the recruiting team will send you an email with a self-schedule link to speak with one of our Recruiters.  Watch your email for that link!  
Qualifications
Education/Experience  CNC Machining certification from an accredited program, plus five (5) years of programming experience with CNC Machines; or equivalent combination of education and experience in a machine shop environment.
Knowledge/Skills/Abilities
Core People Skills.  Ability to positively interact and work collaboratively with a diverse group of people at all levels of the organization.  
Communication Skills.  Ability to speak clearly and persuasively in positive or negative situations, listen and obtain clarification, and respond well to questions.  
Computer/Applications Skills. Working knowledge of Microsoft Office Products, and CAD/CAM systems. Experience with Enterprise Resource Planning (ERP) systems is a plus. 
Core Business Skills. Ability to exercise sound judgement and discretion in handling of proprietary and confidential information.  Ability to work independently, without significant direction and to use resources effectively to "figure it out".  Familiarity with a graphite or metal machining environment.
CNC Machining Skills.  Ability to proficiently set-up, program, and edit CNC and manual Machines.  Ability to use a variety of hand tools.  Ability to use a variety of measuring instruments or equipment.  Strong mechanical aptitude.  Proficient with math skills, especially geometric calculations, including trigonometry, angles and arcs.  Ability to identify and implement improvements.  Ability to read and interpret advanced blueprint drawings and decipher dimensions from prints.  Comprehensive understanding of CNC G-Code Programming.
Physical/Sensory Requirements
Must be able to sit or stand for long periods of time, bend, reach, walk, and use hands and fingers to handle or feel. Ability to lift up to 75 pounds occasionally and up to 25 pounds frequently. Must be able to communicate effectively in English by telephone, in person and in writing. Effectively use a personal computer. Specific vision abilities required by this job include close vision, color vision, peripheral vision, depth perception, and ability to adjust focus.
Working Environment
Generally, work in an manufacturing/machinist environment, will be required to go onto plant floor frequently as needs/issues arise. Personal Protective Equipment (PPE) may be required.
#PyrotekHiring
Pyrotek Offers:
Competitive compensation package
Collaborative and innovative team working environment
Health Benefits at 31 days
Retirement plan with a generous match - up to 6%
Vacation 
Profit sharing
Pyrotek is an Equal Employment Opportunity Employer and does not discriminate on the basis of race, religion, color, sex (including pregnancy, gender identity, and sexual orientation), parental status, national origin, age, disability, family medical history or genetic information, political affiliation, military service, or other non-merit based factors.
California residents please take a moment to review our California Resident Applicant Data Collection Notice