Material Handler
Employment Type: Full-time
Location: Salisbury, North Carolina
This position is within the Mining And Metals Industry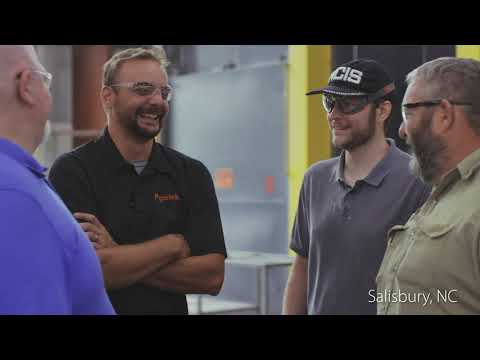 Play video
Job Summary
Who is Pyrotek? Pyrotek is the most successful global industrial company you've never heard of (until now). Pyrotek is a global leader in high temperature materials and our products impact virtually everyone in the developed world. Our global team has worked for decades to deliver new technologies, advanced engineered systems and innovative materials to customers in industries all over the world. The last car, train and plane you rode in were all safer and more energy efficient because of Pyrotek. The beverage cans in your refrigerator are lighter, stronger and infinitely recyclable because of Pyrotek. Join our team and create, improve and innovate the everyday!
Essential Duties and Responsibilities
Shift: Monday - Friday 5am-1:30pm
Responsible for assisting with daily operations of warehouse and inventory functions in support of manufacturing. Additional backup responsibility in supporting Vendor Managed Inventory (VMI) deliveries as needed.
Essential Functions/Responsibilities
Proactively interface with Warehouse Supervisor, Warehouse Lead and Production Supervisor regarding daily schedule and order requirements.
Ensure materials are transferred accurately and in a timely fashion to required workstation(s) and/or production work areas.
Proactively monitor raw materials replenish point(s) of each workstation and/or area as required for each work order and/or shift of operation.
Ensure safe removal of finished goods and scrap from production areas.
Assist in ensuring inventory levels are maintained, physical counts are accurate and all required materials to both inventory and production work areas are replenished in a timely manner.   
 Ensure accurate recording of all inventory transitions within Visual via computer entry and/or hand-held scanners.
Accurately pack and/or repackage materials as required via customer profile, work order or engineering master.  
Accurately package product to ensure safe transport and to mitigate any possible damage through the shipping process.
Proficiently and safely fabricate shipping crates/pallets per provided specifications to ensure safe transport of products.
Salisbury Pyrotek is a great place to work!  Check out our Video!
Excellent compensation & benefits
Generous team member referral program
Training opportunities & promoting from within
Collaborative, Innovative and Team Environment
Click the I'm Interested button so our hiring team can review your application and schedule time to speak with you soon! 
What happens next?  Once you submit your application / resume, a member of the recruiting team will send you an email with a self-schedule link to speak with one of our Recruiters.  Watch your email for that link! 
Qualifications
Education/Experience
High School Diploma or General Education Development (GED) plus a minimum one (1) year of warehouse/material handling experience and forklift operation; or equivalent combination of education and work/life experience.
Valid driver's license with a clean driving record.
Knowledge/Skills/Abilities
Core People Skills.  Ability to positively interact and work collaboratively with a diverse group of people at all levels of the organization.  Genuine with high ethical standards and values and personal integrity and honesty.  Ability to apply a large measure of common sense to a variety of situations.
Communication Skills.  Ability to speak clearly and persuasively in positive or negative situations, listen and obtain clarification, and respond well to questions.  Proficiency in writing clearly and concisely and editing work for spelling and grammar.   
Computer/Applications Skills. Proficient computer skills using a variety of software applications systems.  Working knowledge of Microsoft Office Products and Enterprise Resource Planning (ERP) software, preferably Visual Manufacturing.
Core Business Skills. Ability to exercise sound judgement and discretion in handling of proprietary and confidential information.  Ability to work independently, without significant direction and to use resources effectively to "figure it out". Exceptional prioritization, time management and organizational skills.  Ability to write routine reports and correspondence.
Warehouse. Ability to understand basic planning and scheduling. Proficient knowledge of materials movement, inventory accuracy and cycle counting. Ability to proficiently and safely utilize hand tools, power saw and nail gun.  Ability to be certified and operate a forklift proficiently and safely.  Ability to maintain motor vehicle driving record in good standing, as defined by Pyrotek's driving record requirements.
Physical/Sensory Requirements
The following physical activities described here are representative of those required by a team member to perform the essential functions of this position. Reasonable accommodation, if feasible, will be made to enable individuals with disabilities to perform the functions of position.
While performing the functions of this position, the team member is continuously required to talk or hear; regularly required to stand, walk, use stairs, bend, and reach, use hands and fingers to handle or feel. Frequently lift material weighing up to 50 pounds. Communicate effectively in English via telephone, in person and in writing. Effectively use personal computer and basic calculator.
Working Environment
While performing the essential responsibilities of this position, team member primarily works in a warehouse/manufacturing environment where Personal Protection Equipment (PPE) is required. Team member is regularly exposed to noise, hot and cold environmental conditions when warehouse/manufacturing environment. Team member while performing the essential responsibilities of this position, occasionally works in an office environment.
#materialhandler #warehouse #SalisburyNCjobs #firstshiftjobs
Pyrotek is an Equal Employment Opportunity Employer and does not discriminate on the basis of race, religion, color, sex (including pregnancy, gender identity, and sexual orientation), parental status, national origin, age, disability, family medical history or genetic information, political affiliation, military service, or other non-merit based factors.
California residents please take a moment to review our California Resident Applicant Data Collection Notice