Maintenance Technician - 1st Shift
Employment Type: Full-time
Location: Columbia City, Indiana
This position is within the Mining And Metals Industry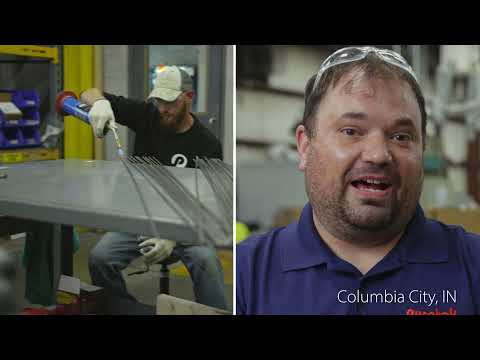 Play video
Job Summary
Who is Pyrotek? Pyrotek is the most successful global industrial company you've never heard of (until now). Pyrotek is a global leader in high temperature materials and our products impact virtually everyone in the developed world. Our global team has worked for decades to deliver new technologies, advanced engineered systems and innovative materials to customers in industries all over the world. The last car, train and plane you rode in were all safer and more energy efficient because of Pyrotek. The beverage cans in your refrigerator are lighter, stronger and infinitely recyclable because of Pyrotek. Join our team and create, improve and innovate the everyday!
Essential Duties and Responsibilities
Shift:  Monday - Friday, 6:00 am - 3:30 pm
Starting Wage $26.00 with the potential to earn more based on experience. 
Position eligible for a $2000 signing bonus.**   $1000 paid after 90 days and $1000 paid after 180 days.
Responsible for installing and maintaining the good condition and functionality of all industrial plant equipment needed for production operations. Perform preventative maintenance on all equipment, facilities, and related property.
ESSENTIAL FUNCTIONS/RESPONSIBILITIES
Accurately complete visual inspections and mechanically tests machinery and equipment.
Continuously listens for unusual sounds from machines or equipment to detect malfunction and discusses machine operation variations with production associates, supervisor or other maintenance workers to diagnose problem or repair machine.
Visually inspects, tests and ensures machinery and all equipment are functional for both operations and safety standards.
Safely completes disassembly of defective machines and equipment and installs new or repaired component.
Consistently cleans and lubricates shafts, bearings, gears and other parts of machinery.
Installs and repairs electrical apparatus, such as transformers and wiring and electronic components of machinery and equipment.
Lay outs, assemble, installs and maintains pipe systems, related hydraulic and pneumatic equipment. Repairs and replaces gauges, valves, pressure regulators and related equipment.
Set up and operation of machine tools such as; lathe, grinder, drill and milling machine to repair or fabricated machine parts, jigs and/or fixtures, tools.
Operates cutting torch or welding equipment to cut or join metal materials.
Continuously maintains physical structure of establishment.
Safe, efficient and timely completion of Preventive Maintenance (PM) orders.
Columbia City Pyrotek is a great place to work!  Watch our video!
4 day work-weeks!  OT available.
Safety PPE provided (can include prescription safety glasses)
Generous benefits and compensation (some benefits start day 1)
Generous employee referral and recognition programs (includes $$ and paid days off)
Team Member of the Month (up to 5 hours of paid time off & $$)
Team Member Appreciation (coveted parking spot)
Birthdays and special occasions recognized
Regular performance and salary reviews
Great team oriented and collaborative team members & management
Click the I'm Interested button so our hiring team can review your application and schedule time to speak with you soon! 
What happens next?  Once you submit your application / resume, a member of the recruiting team will send you an email with a self-schedule link to speak with one of our Recruiters.  Watch your email for that link!  
Qualifications
Must Haves:  Associate degree (A.A. or A.S.) or equivalent from two-year College or Technical School in industrial maintenance or related discipline or equivalent combination of education and experience.  Minimum of two (2) years industrial maintenance experience.
Knowledge/Skills/Abilities
Core People Skills: Ability to positively interact and work collaboratively with a diverse group of people at all levels of the organization. 
Communication Skills: Ability to speak clearly and persuasively in positive or negative situations, listen and obtain clarification, and respond well to questions. Proficiency in writing clearly and concisely and editing work for spelling and grammar. 
Computer/Applications Skills: Proficient computer skills using a variety of software applications systems. Working knowledge of Microsoft Office Products. Proficient in PM software applications such as MP2.
Core Business Skills:  Ability to work independently, without significant direction and to use resources effectively. Strong critical thinking skills, judgment and keen attention to detail and accuracy. Exceptional prioritization, time management and organizational skills. Ability to perform mathematical skills in the forms of measurement and other work material calculations utilizing a calculator. Ability to understand basic scheduling. Ability to read and understand basic drawing and schematics.
Professional Investment: Demonstrated commitment to own personal professional development and learning. Maintains job knowledge by participating in educational opportunities.
PHYSICAL/SENSORY REQUIREMENTS
The following physical activities described here are representative of those required by an employee to perform the essential functions of this position. Reasonable accommodation, if feasible, will be made to enable individuals with disabilities to perform the functions of position.
While performing the functions of this position, the employee is regularly required to talk and hear; continuously required to remain stationary, be mobile, bend and reach, use hands and fingers, handle or feel and use stairs.

Employee must be able to regularly lift up to 50 pounds occasionally team-lift up to 100 pounds. Communicate effectively in English by telephone, in person and in writing. Effectively use a personal computer, office equipment, telephone and basic calculator. Specific vision abilities require both up close and distant sight abilities.
WORKING ENVIRONMENT
While performing the essential responsibilities of this position, employee works within manufacturing and office environments. Personal Protective Equipment (PPE) is required within the manufacturing environment. Employee while in the manufacturing environment is regularly exposed to noise, heat and/or cold environmental conditions.
#pyrotekhiringnow
Pyrotek is an Equal Employment Opportunity Employer and does not discriminate on the basis of race, religion, color, sex (including pregnancy, gender identity, and sexual orientation), parental status, national origin, age, disability, family medical history or genetic information, political affiliation, military service, or other non-merit based factors.
California residents please take a moment to review our California Resident Applicant Data Collection Notice