Machine Operator - Filter Assembly (1st Shift)
Employment Type: Full-time
Location: Columbia City, Indiana
This position is within the Mining And Metals Industry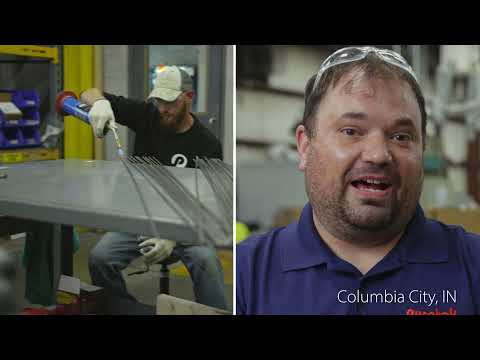 Play video
Job Summary
Who is Pyrotek? Pyrotek is the most successful global industrial company you've never heard of (until now). Pyrotek is a global leader in high temperature materials and our products impact virtually everyone in the developed world. Our global team has worked for decades to deliver new technologies, advanced engineered systems and innovative materials to customers in industries all over the world. The last car, train and plane you rode in were all safer and more energy efficient because of Pyrotek. The beverage cans in your refrigerator are lighter, stronger and infinitely recyclable because of Pyrotek. Join our team and create, improve and innovate the everyday!
Essential Duties and Responsibilities
Schedule:  Monday - Thursday, 6:00 am - 4:30 pm
Responsible for the processing of glasweve, wire-mesh and graph-oil material into finished and semi-finished product via various stamping, slitting, cutting and stapling techniques.
Essential Functions/Responsibilities:
Continuously and efficiently operate semi-automatic stapling machine.
Proficiently operate rotating table fixture in desired order at either of two stations in conjunction with co-worker, as well as other assigned duties to insure proper packaging.
Proficiently operate SAMCO Graph-Oil Press.
Accurately clock in and out of each job via computer terminals throughout shop floor.
Accurately read work order instructions and proficiently complete operations as required.
Safely and accurately setup each job based on work order instructions and job prints.
Proficiently perform basic Preventative Maintenance (PM) tasks.
Promptly notify supervision of any problems or malfunctions of machine and/or barriers in meeting output requirements.
Accurate completion of quality checks and immediately notify supervision of any out of tolerance readings.
Timely completion of hourly production tracking boards. Continuously keep work area, including machine and floor clean at all times.
Continuously identifying areas for process improvement, cost and waste reduction.
Why work for Pyrotek?  Check out our video!
Innovative and collaborative manufacturing plant
4 day work-weeks! 
Safety PPE provided (can include prescription safety glasses)
Generous employee referral and recognition programs (includes $$ and paid days off)
Great Team!
Click the I'm Interested button so our hiring team can review your application and schedule time to speak with you soon! 
What happens next?  Once you submit your application / resume, a member of the recruiting team will send you an email with a self-schedule link to speak with one of our Recruiters.  Watch your email for that link!  
Qualifications
Must Haves:  High school Diploma or General Education Development (GED) / Test Assessing Secondary Completion (TASC) highly desired or equivalent combination of education and life experiences. Preferred minimum one (1) year of manufacturing/machine operation experience or training.
Knowledge/Skills/Abilities:
Core People Skills.  Ability to positively interact and work collaboratively with a diverse group of people at all levels of the organization.
Communication Skills.  Ability to speak clearly and persuasively in positive or negative situations, listen and obtain clarification, and respond well to questions. Proficiency in writing clearly and concisely and editing work for spelling and grammar. 
Computer/Applications Skills. Proficient computer skills using a variety of software applications systems to access material, record labor hours and access Employee Self Service.
Performance Management.  Ability to understand and use basic mechanical skills. Ability to define problems, collect objective data, establish facts and draw valid conclusion. Possess the functional and technical skills which guarantee a high level of accomplishment. Ability to read and understand basic drawings. Ability to understand basic scheduling. Ability to add, subtract, multiply and divide numbers. Ability to perform mathematical skills in the forms of measurement and other work material calculations, utilizing a calculator.
Core Business Skills.  Ability to exercise sound judgement and discretion in handling of proprietary and confidential information. Ability to work independently, without significant direction and to use resources effectively. Strong critical thinking skills, judgment and keen attention to detail and accuracy. Exceptional prioritization, time management and organizational skills
Physical/Sensory Requirements
The following physical activities described here are representative of those required by an employee to perform the essential functions of this position. Reasonable accommodation, if feasible, will be made to enable individuals with disabilities to perform the functions of position.
While performing the functions of this position, the employee is continuously required to talk or hear; regularly required to stand, walk, use stairs, bend and reach, use hand and fingers and hand or feel. Frequently lift material weighing up to 30 pounds. Occasionally lift, maneuver/handle material weighing up to 60 pounds. Communicated effectively in English by telephone, in person and in writing. Effectively use personal computer and basic calculator. Specific vision abilities require both up close and distant sight abilities.
Working Environment
While performing the essential responsibilities of this position, employee works solely within the manufacturing environment where Personal Protection Equipment (PPE) is required. Employee is regularly exposed to noise, hot and cold environmental conditions.  
#pyrotekhiring #parttimemanufacturingjobs #manufacturingjobs
Pyrotek is an Equal Employment Opportunity Employer and does not discriminate on the basis of race, religion, color, sex (including pregnancy, gender identity, and sexual orientation), parental status, national origin, age, disability, family medical history or genetic information, political affiliation, military service, or other non-merit based factors.
California residents please take a moment to review our California Resident Applicant Data Collection Notice