Industrial Sewing Technician - $250 Sign-On Bonus
Employment Type: Full-time
Location: Spokane Valley, Washington
This position is within the Mining And Metals Industry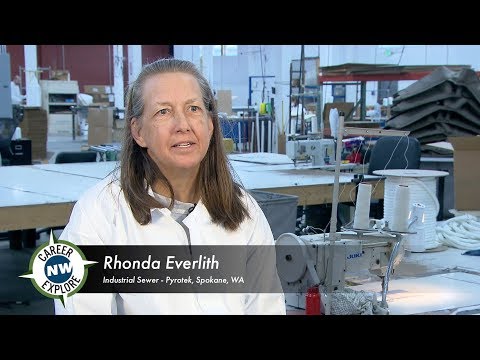 Play video
Job Summary
Who is Pyrotek? Pyrotek is the most successful global industrial company you've never heard of (until now). Pyrotek is a global leader in high temperature materials and our products impact virtually everyone in the developed world. Our global team has worked for decades to deliver new technologies, advanced engineered systems and innovative materials to customers in industries all over the world. The last car, train and plane you rode in were all safer and more energy efficient because of Pyrotek. The beverage cans in your refrigerator are lighter, stronger and infinitely recyclable because of Pyrotek. Join our team and create, improve and innovate the everyday!
Essential Duties and Responsibilities
Shift:  Monday - Friday, 6:00 am - 2:30 pm
Sign-On Bonus: $250
Wage: Starts at $18.25 per hour 
Sign-On Bonus is paid after 60 days of employment and $50 weekly bonus is paid out quarterly.
Sewing Technician is responsible for sewing mesh bags for filters, various other materials for flex troughs, blankets, or pads in an industrial sewing environment.  
Essential Functions/Responsibilities: 
Read drawings and follow standard operation procedures to sew and assemble parts. Accurately and efficiently move process materials in accordance with established procedures.
Ability to manipulate fabric in a variety of weights, stiffness and coarseness with fingers.  This includes folding, tucking, and pinching.
Perform quality inspections and complete required documentation in a timely manner.
Clean work space and equipment as required.
Ensure proper use of equipment and wear proper PPE at all times.
Work effectively within team environments both in your department and across the organization.
Why work for Pyrotek?  Check out our Video!!
Competitive compensation and benefit plans
Collaborative, innovative, and team environment
Benefits after 30 days
Generous employee referral program
And bottom line, just darn nice people!
Click the I'm Interested button so our hiring team can review your application and schedule time to speak with you soon! 
What happens next?  Once you submit your application / resume, a member of the recruiting team will send you an email with a self-schedule link to speak with one of our Recruiters.  Watch your email for that link!  
Qualifications
Must Haves:  HS Diploma or GED, preferred but not required.  Experience in an industrial setting using sewing machines or cutting is preferred, but not required.  On the job training will be provided for the right, engaged candidate!
Ability to positively interact and work collaboratively with people at all levels of the organization in a fast-paced environment. 
Ability to speak clearly and persuasively in positive or negative situations, listen and obtain clarification, and respond well to questions. 
Ability to accurately read drawings and follow standard operation procedures.  Knowledge of lean manufacturing and 5S is a plus.
Physical/Sensory Requirements:
Must be able to up to 50 pounds occasionally. Frequently required to sit and stand for extended periods of time.  Must be able to work with fiberglass, ceramic cloth, silica cloth, and various other materials frequently.
Majority of time will be in a manufacturing environment where Personal Protective Equipment (PPE) will be required. Periodic exposure to outdoor environment through open doors.    
#pyrotekhiringnow
Pyrotek is an Equal Employment Opportunity Employer and does not discriminate on the basis of race, religion, color, sex (including pregnancy, gender identity, and sexual orientation), parental status, national origin, age, disability, family medical history or genetic information, political affiliation, military service, or other non-merit based factors.
California residents please take a moment to review our California Resident Applicant Data Collection Notice