Automation Technician
Employment Type: Full-time
Location: Columbia City, Indiana
This position is within the Mining And Metals Industry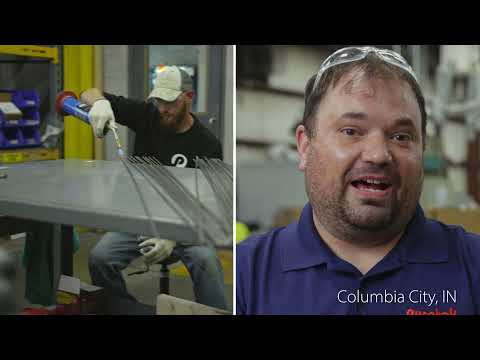 Play video
Job Summary
Who is Pyrotek? Pyrotek is the most successful global industrial company you've never heard of (until now). Pyrotek is a global leader in high temperature materials and our products impact virtually everyone in the developed world. Our global team has worked for decades to deliver new technologies, advanced engineered systems and innovative materials to customers in industries all over the world. The last car, train and plane you rode in were all safer and more energy efficient because of Pyrotek. The beverage cans in your refrigerator are lighter, stronger and infinitely recyclable because of Pyrotek. Join our team and create, improve and innovate the everyday!
Essential Duties and Responsibilities
Day Shift:  Monday - Thursday 6:00 am - 4:30 pm
Pyrotek's Automation Technician is responsible for collaborating with Operations, Engineering & Maintenance teams for maintaining continuous system operation of RGW line by adjusting, repairing, replacing, and/or modifying systems and components on high speed automated assembly and process equipment.  
Why work for Pyrotek?
Innovative and collaborative manufacturing plant
4 day work-weeks! 
Safety PPE provided (can include prescription safety glasses)
Generous benefits and compensation (some benefits start day 1)
Generous employee referral and recognition programs (includes $$ and paid days off)
Great Team!
Essential Functions/Responsibilities
Ensure smooth operation of machines, set up.  Troubleshoot machine related to mechanical, electronic, electrical, mechanical, robotic, hydraulics, and pneumatic problems making adjustments as necessary.
Adjust robot positions, coordinate types, jog and troubleshoot to ensure optimum operation.
Provide guidance on machine maintenance requirements, as needed.
Create and provide guidance and training for maintenance technicians and operations related activities.
Work with outside venders and or consultants regarding adjustments and repairs.
Support compliance with ISO, OSHA, and all other regulatory requirements in compliance with company policy.
Document all changes made to machines, fixtures or tolling made through installation, debug or normal operation as required by Manufacturing Engineering team.
Click the I'm Interested button so our hiring team can review your application and schedule time to speak with you soon! 
What happens next?  Once you submit your application / resume, a member of the recruiting team will send you an email with a self-schedule link to speak with one of our Recruiters.  Watch your email for that link!  
Qualifications
Education/Experience  Associate degree in engineering or a related technical discipline, plus a minimum of 3 years of related experience; or equivalent combination of education and experience.   
Knowledge/Skills/Abilities
Core People Skills. Ability to positively interact and work collaboratively with a diverse group of people at all levels of the organization.   Ability to apply a large measure of common sense to a variety of situations.
Communication Skills.  Ability to speak clearly and persuasively in positive or negative situations, listen and obtain clarification, and respond well to questions.  Ability to patiently train others. Proficiency in writing clearly and concisely and editing work for spelling and grammar. Ability to write basic notes and accurately enter electronic requisitions.   
Computer/Applications Skills. Proficient computer skills using a variety of software applications systems including 3D CAD software, PLC and VFD controls and PLC logic and programing.  Working knowledge of Microsoft Office Products.
Core Business Skills.   Ability to work independently, without significant direction and to use resources effectively to "figure it out".   Exceptional prioritization, time management and organizational skills. Ability to read and interpret information such as safety rules, work standards, work instructions. Ability to write preventative maintenance creation/scheduling/reporting, CMMS record keeping and upkeep.
Analytical Skills. Ability to use information/data and various metrics to develop an informed and factual business case. Ability to define problems, collect data, establish facts, and draw valid conclusions.
Machine/ Equipment Skills. Ability to adjust robot positions, coordinate types, jog and troubleshoot errors. Ability to cross train with maintenance technicians and operators. Ability to read and interpret electrical schematics. Knowledge of minor fabrication skills (metal) welding a plus. Strong knowledge of 120 VAC control circuits, 240DC control circuit, Industrial Power 3, Phase 480V and industry accepted electrical safety practices for testing energized circuits. Knowledge of OMRON, CMMS Ability to manage several projects at once to meet established timelines is essential.  
Physical/Sensory Requirements
The following physical activities described here are representative of those required by a team member to perform the essential functions of this position. Reasonable accommodation, if feasible, will be made to enable individuals with disabilities to perform the functions of position.
While performing the functions of this position, the team member is continuously required to talk or hear; regularly required to stand, walk, use stairs, bend and reach, use hand and fingers to handle or feel; frequently lift material weighing up to 25 pounds; occasionally team lift and /or move up to 50 pounds; communicate effectively in English by telephone, in person and in writing and effectively use a personal computer, office equipment and telephone.
Working Environment
While performing the essential responsibilities of this position, team member generally will work in a manufacturing environment where Personal Protective Equipment (PPE) may be required. Team member is regularly exposed to noise, heat, and cold environmental conditions.
#pyrotekhiringnow #manufacturingjobs #manufacturing #automationjobs #robotics #columbiacityinjobs
Pyrotek is an Equal Employment Opportunity Employer and does not discriminate on the basis of race, religion, color, sex (including pregnancy, gender identity, and sexual orientation), parental status, national origin, age, disability, family medical history or genetic information, political affiliation, military service, or other non-merit based factors.
California residents please take a moment to review our California Resident Applicant Data Collection Notice