HR Business Partner - Analyst
Employment Type: Full-time
Location: Spokane, Washington
This position is within the Mining And Metals Industry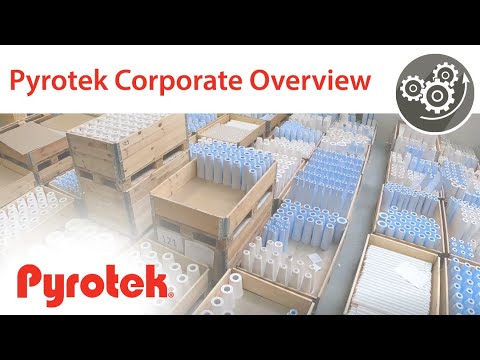 Play video
Job Summary
Who is Pyrotek? Pyrotek is the most successful global industrial company you've never heard of (until now). Pyrotek is a global leader in high temperature materials and our products impact virtually everyone in the developed world. Our global team has worked for decades to deliver new technologies, advanced engineered systems and innovative materials to customers in industries all over the world. The last car, train and plane you rode in were all safer and more energy efficient because of Pyrotek. The beverage cans in your refrigerator are lighter, stronger and infinitely recyclable because of Pyrotek. Join our team and create, improve and innovate the everyday!
Essential Duties and Responsibilities
Work in partnership with HR and other functional departments to support and advance HR systems and data. Act as HR systems expert, managing all aspects of HR data to include understanding system requirements, optimizing efficiencies, creating reports to support business needs, managing upgrades, addressing relevant issues, and suggesting improvements, developing dashboards, and working with vendors to find solutions.
This is a remote position reporting in to our Corporate Headquarters office in downtown Spokane, WA. Consideration will also be given to candidates in the Seattle or Portland regions.
What it's like to work with the Pyrotek HR Team:
Collaborative Team
Annual Team Meetings
Learning Environment
Global Reach
Blend of Strategic and Tactical positions
Essential Functions/Responsibilities
Support and advance HR systems, data analysis and reporting to include:

Ensuring integrity of HR data across various platforms, to include but not limited to; HRIS, ATS, engagement and exit interview data.
Accessing and gathering data from various sources and consolidating into meaningful reports and dashboards.
Participating in annual compensation planning/ merit process by generating compensation reports and analyzing merit awards and budgets.
Conducting business systems user maintenance including access and security, roles, permissions, and updating and maintaining user profiles.
Providing front line end user support and training. Conduct seminars, workshops, individual training sessions, etc. in support of business systems.
Creating and delivering procedural and end user documentation as newly implemented features, upgrades, and processes are deployed.
Designing and developing processes to monitor effectiveness of assigned systems and measure business performance. 
Analyzing trends and metrics in partnership with stakeholders to develop solutions, programs and policies.
Creating and developing initiatives to improve performance and productivity of assigned systems.

Work in conjunction with Data Protection policies and best practices to implement and ensure appropriate access and security measures.
Perform first level Helpdesk support for HR business system issues and coordinate with Information Systems or third-party support desk as necessary.
Coordinate with vendors and appropriate internal teams to facilitate system interfaces.
As part of the USA HR Team develop effective working relationships across the system that enhance positive people management throughout Pyrotek.  Influence for good and challenge the USA HR team on the development and delivery of HR strategies and decisions.
Positively contribute to the overall USA HR conversation, goals and initiatives.  Proactively participate in HR projects that support our overall effort to build engaged, satisfied and productive people. 
Click the I'm Interested button so our hiring team can review your application and schedule time to speak with you soon! 
What happens next? Once you submit your application / resume, a member of the recruiting team will send you an email with a self-schedule link to speak with one of our Recruiters. Watch your email for that link! 
Qualifications
Education/Experience  Bachelor's degree in Human Resources, Information Systems, or related field plus minimum of five (5) years of Human Resources experience, including direct experience with HR applications or systems support including HRIS and ATS; or equivalent combination of education and related experience.   
Experience with HR System reporting tools is required. 
Previous experience in one or more of the following is preferred: project management, new software/application implementation, managing system and database upgrades/patches, analyzing business requirements, Learning Management System (LMS) administration and writing end user documentation and/or training.
Certifications: SHRM-CP/PHR, SHRM-SCP/SPHR, preferred.
Knowledge/Skills/Abilities
General Human Resources. Working knowledge of all aspects of Human Resources with a strong emphasis on HRIS systems.  Possess the functional and technical skills which guarantee a high level of accomplishment.
Core People Skills/Credibility. Ability to positively interact and work collaboratively with a diverse group of people at all levels of the organization.  Genuine with high ethical standards and values and personal integrity and honesty.  Ability to apply a large measure of common sense to a variety of situations. Ability to cultivate relationships and deliver feedback to move projects forward. 
Business Acumen. Understanding risks and opportunities relevant to various aspects of the business. Ability to extract essential information and recognize options.  
Analytical Skills.  Ability to use information/data and various metrics to develop an informed and factual business case.  Strong financial analytical capabilities for developing profitable product strategies. Ability to define problems, collect objective data, establish facts, and draw valid conclusions.
Computer/Application/Technical Skills. Proficient MS Office computer skills, including Word, Excel, PowerPoint, and SharePoint, as well as HR related systems, including applicant tracking, HRIS, electronic records, etc.  Demonstrated ability to interact with Information Systems positively and effectively for new application discovery and implementation.  Ability to analyze business system requirements and identify alternatives for addressing requirements.  Demonstrated ability to effectively use reporting tools and analytics to generate business reports, benchmark information, data analysis, etc. 
Change Agent/Strategic. Courage to make, and influence others to make, difficult people decisions. Able to foster commitment to the shared mission and vision of Pyrotek. Ability to actively participate with management in developing and managing strategic goals and objectives. Demonstrated ability to solicit and manage the development of innovative approaches to current and emerging business challenges, while taking into account strategic implications. Knowledge of change theory and approaches to managing change.
Communication Skills.  Ability to speak clearly and persuasively in positive or negative situations, listen and obtain clarification, and respond well to questions.  Proficiency in writing technical and internal documents in a clear and concise manner, with proper spelling and grammar.  Ability to vary writing style to meet business needs and intended audience.
Core Business Skills. Ability to exercise sound judgement and discretion in handling of proprietary and confidential information.  Ability to work independently, without significant direction and to use resources effectively to "figure it out".  Strong critical thinking skills, judgment and keen attention to detail and accuracy.  Exceptional prioritization, time management and organizational skills.  
Professional Investment.   Demonstrated commitment to own personal professional development and learning.
Travel.  Ability to travel domestically by land and air up to 25%.  Some global travel may be required.  US Passport or ability to obtain.
Physical/Sensory Requirements
The following physical activities described here are representative of those required by a team member to perform the essential functions of this position. Reasonable accommodation, if feasible, will be made to enable individuals with disabilities to perform the functions of position.
Must be able to sit for long periods-of-time, bend and reach, use stairs, lift up to 25 pounds occasionally and communicate effectively in English by telephone, in person and in writing. Effectively use a personal computer, office equipment and telephone.
Working Environment
While performing the essential responsibilities of this position, team member generally will work in an office environment.
All your information will be kept confidential according to EEO guidelines.
Pyrotek is an Equal Employment Opportunity Employer and does not discriminate on the basis of race, religion, color, sex (including pregnancy, gender identity, and sexual orientation), parental status, national origin, age, disability, family medical history or genetic information, political affiliation, military service, or other non-merit based factors.
California residents please take a moment to review our California Resident Applicant Data Collection Notice